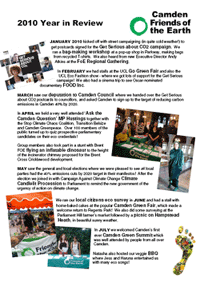 In 2010 we campaigned to Fix the Food Chain and to cut carbon emissions locally and nationally, getting support from local people and community groups, speaking to MPs and councillors, and attending some great events including Camden Green Fair… we had some great lobbying successes, and some unforgettable events from the well-attended MP hustings before the elections, to our fundraising banquet and swap shop!
See our 2010 Review of the Year (PDF) to read about all our campaigns, events and activities that Camden Friends of the Earth organised and participated in last year – thank you to everyone involved.
And, if you'd like to be involved in 2011, get in touch – everyone is welcome!