Hungry for Change?
Join us for the Screening of Academy Award Nominee Best Documentary Feature
"FOOD, INC." at Inspiral Cafe, Camden, Tuesday 7 December 2010
Screening to start at 7.30pm. Entry by donation (£2 suggested)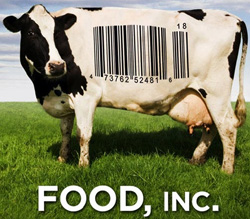 Food, Inc. reveals surprising—and often shocking truths—about what we eat, how it's produced, who we have become and where we are going from here.
There will be a Q&A/discussion after the film with guest speakers including Friends of the Earth food campaigners and Transition Belsize.
Sign up to our Facebook event page for the film screening and please invite your friends!