Great news – Camden Council have just announced a seminar on cutting CO2 emissions across Camden by 40% in 2020 – the target of our Get Serious about CO2 campaign!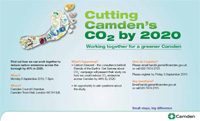 The event, "Cutting Camden's CO2 by 2020: working together for a greener Camden", will be held on Monday 6 September, 7-8pm, Council Chamber, Camden Town Hall, Judd Street WC1.
Chris Dunham of Carbon Descent will present Camden's recently completed feasibility work on how Camden can achieve 40% CO2 reduction. They will focus on:
which low carbon strategies and technologies are likely to have the biggest impact
the probable challenges
the role people in Camden can play in Camden's low carbon transition
After the presentation, there will be an opportunity to discuss the feasibility work with Carbon Descent and members of Camden's sustainability team.
It sounds like a great event and shows how successful our campaign has been so far, with the council putting effort and resources into seeing how we can achieve substantial CO2 reductions across the borough.
All are welcome to attend – please contact harold.garner@camden.gov.uk if you plan to go along.